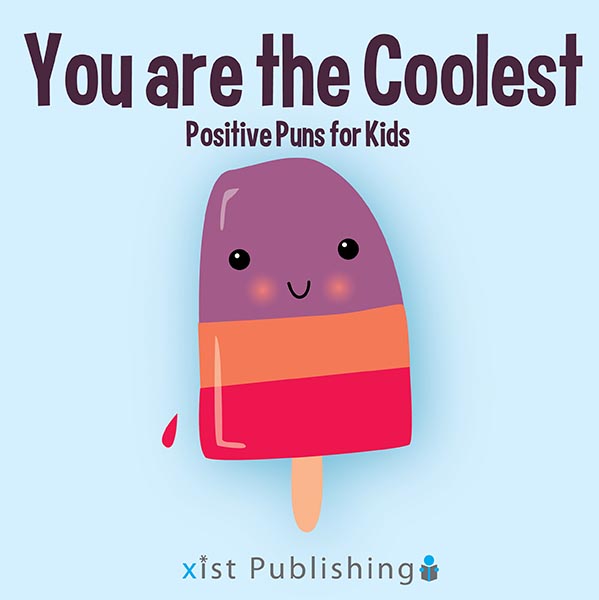 You are the Coolest
This collection of positive puns is sure to make any kid chuckle. From "Taco 'bout an awesome kid!" to "I be-leaf in you!" this book is filled will illustrated affirmations that provide a daily reminder that they are loved.
Nonfiction, Picture Book

Illustrated Jokes
Book Title: You are the Coolest
Author: Calee M. Lee
Illustrator: Brenda Ponnay
Series: Illustrated Jokes
Digital Edition
eISBN: 9781532415562
Available in single or multi-user editions.
Print Edition(s)
Trim Size:
8.5 x 8.5
Perfect Bound ISBN: 9781532415579
Hardcover ISBN: 9781532415586
Audiobook Edition
Audiobook ISBN: 9781532418938
Runtime: 00:02:16
Book Details
ATOS:
1.4
Lexile:
350L
GRL:
K
F&P:
J
Age Level:
4-10
Reading Level:
K3
BISAC:
JNF028020, JNF028000, JUV019000
BIC:
WHJ
Page Count:
28
Year of Publication:
2020
Release Date:
01/28/2020
Language:
eng
Series Description:
Kid's jokes are even funnier when paired with humorous illustrations. Wacky illustrations are paired with one joke per page, sure to keep kids reading and laughing.
Keywords:
funny, jokes, puns, affirmations, affirmation book, pun book, jokes for kids, puns for kids, i love you, gifts for kids, congratulations kids, gifts for children, funny book for kids, preschool, kindergarten, ages 6-8, ages 8-10, first grade, ready for school, starting school, first day of school