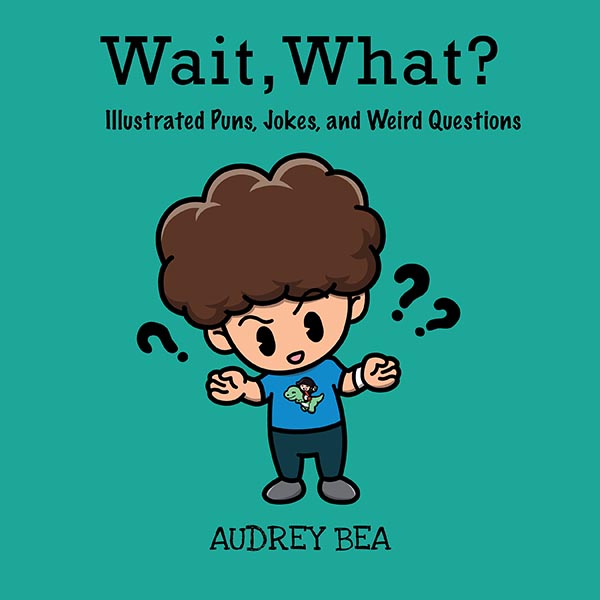 Wait, What?
Have you ever hear a joke, a pun, or just a strange statement and said, "Wait, what?" This little book features funny and fanciful ideas designed to spark conversation and get your brain thinking deeply about language, idioms, and the world we live in.
Nonfiction, Picture Book

Illustrated Jokes
Book Title: Wait, What?
Author: Audrey Bea
Illustrator: Adamm Paul Bueno
Series: Illustrated Jokes
Digital Edition
eISBN: 9781532431661
Available in single or multi-user editions.
Print Edition(s)
Trim Size:
8.5 x 8.5
Perfect Bound ISBN: 9781532431678
Hardcover ISBN: 9781532431685
Audiobook Edition
Audiobook ISBN: 9781532431692
Book Details
Lexile:
580L
GRL:
M
F&P:
M
Age Level:
8-12
Reading Level:
K3
BISAC:
JNF028020, JNF028000, JNF021070
BIC:
WHJ
Page Count:
26
Year of Publication:
2021
Release Date:
02/24/2021
Language:
eng
Series Description:
Kids jokes are even funnier when paired with humorous illustrations. Brenda Ponnay's signature style is paired with age-appropriate jokes in this series.
Keywords:
jokes, puns, weird, books for gifted kids, gifted education, play on words, funny jokes for kids, discussion starter, discussion starter kids, ages 8-12, ages 6-8, pie, cake, ice skating, wordplay, idioms, language, play with words, silly, funny, kids jokes, clean jokes, clean puns, puns for kids, dad jokes, illustrated jokes, illustrated puns