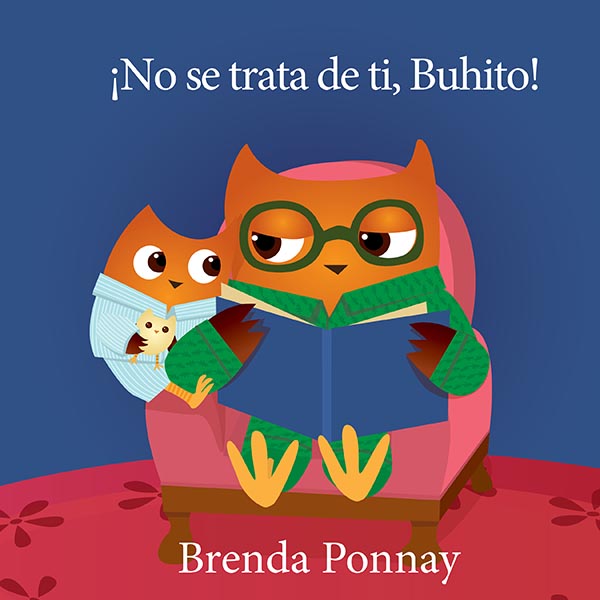 ¡No se trata de ti, Buhito!
Spanish Language Version: It's Not About You, Little Hoo!
Oh, Little Hoo! It's Not About You! Little Hoo has a big lesson to learn: the world doesn't revolve around him. When playing with friends or spending time with family, Little Hoo gets frustrated when things don't always go his way.
Nonfiction, Picture Book

Little Hoo
Book Title: ¡No se trata de ti, Buhito!
Author: Brenda Ponnay
Illustrator: Brenda Ponnay
Series: Little Hoo
Digital Edition
eISBN: 9781532431012
Available in single or multi-user editions.
Print Edition(s)
Trim Size:
8.5 x 8.5
Perfect Bound ISBN: 9781532431029
Hardcover ISBN: 9781532431036
Audiobook Edition
Audiobook ISBN: 9781532431043
Book Details
Age Level:
2-7
Reading Level:
K3
BISAC:
JUV002040, JUV039060, JUV009070
BIC:
YBCS
Page Count:
32
Year of Publication:
2021
Release Date:
08/17/2021
Language:
spa
Series Description:
Kids jokes are even funnier when paired with humorous illustrations. Brenda Ponnay's signature style is paired with age-appropriate jokes in this series.
Keywords:
little hoo, kids friendship, self centered, kindness, compassion, frustration, social emotional, selfish, selfish kids, selfish kids book, its not about you, it is not about you, owl, parenting, teach kids kindness, preschool, preschool kindness, preschool friendship, preschool selfish, toddler selfish, toddler kindness, toddler friendship, ages 4-7, ages 6-8, ages 3-5, baby, emotions, toddler emotions, preschool emotions, spanish, espanol, spanish kids book, spanish picture book, spanish preschool book