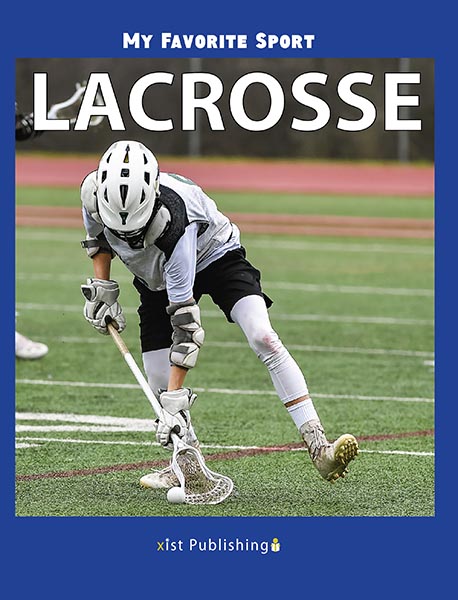 My Favorite Sport: Lacrosse
What's your favorite sport? In My Favorite Sport: Lacrosse, students will learn all about the growing sport of lacrosse. Each My Favorite Sport book includes engaging nonfiction text about the game, the field, the rules, the scoring, the equipment, and the skills needed to play the game.
Informational Text, Nonfiction

My Favorite Sport
Book Title: My Favorite Sport: Lacrosse
Author: Nancy Streza
Series: My Favorite Sport
Digital Edition
eISBN: 9781532420597
Available in single or multi-user editions.
Print Edition(s)
Trim Size:
7.5 x 9.25
Perfect Bound ISBN: 9781532420603
Hardcover ISBN: 9781532420610
Audiobook Edition
Audiobook ISBN: 9781532420627
Book Details
Age Level:
5-12
Reading Level:
K3
BISAC:
JNF054120, JNF038100, JNF046000
BIC:
YBL
Page Count:
36
Year of Publication:
2021
Release Date:
10/17/2021
Language:
eng
Series Description:
Learn all about your favorite animal in these informational picture books. Excellent photographs are paired with engaging text and fun questions throughout each of the books.
Keywords:
lacrosse, lacrosse game, lacrosse rules, lacrosse players, lacrosse for kids, lacrosse book, learn about lacrosse, lacrosse uniform, lacrosse net, ages 3-5, ages 6-8, lacrosse court, lacrosse statistics, lacrosse trivia, lacrosse 2nd grade, lacrosse 1st grade, lacrosse age 7, lacrosse age 8, lacrosse age 9, lacrosse gift, lacrosse gifts for boys, lacrosse gifts for kids, play lacrosse, my favorite sport, my favorite sport lacrosse, nancy streza, lacrosse beginning reader