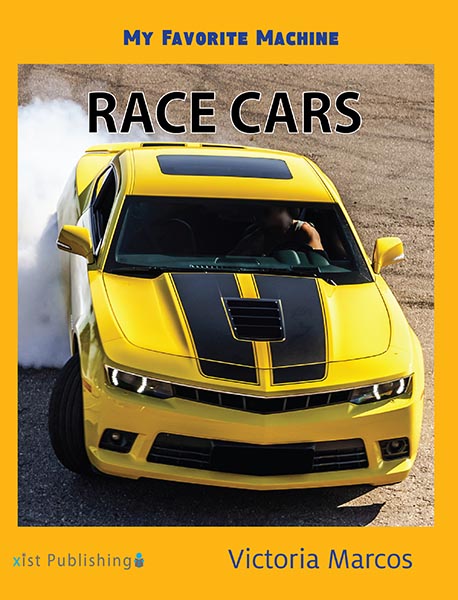 My Favorite Machine: Race Cars
What is your favorite machine? In My Favorite Machine: Race Cars, young readers will learn all about race cars. This book introduces kids to the different types of race cars, how they work and what they do.
Informational Text, Nonfiction

My Favorite Machines
Book Title: My Favorite Machine: Race Cars
Author: Victoria Marcos
Series: My Favorite Machines
Digital Edition
eISBN: 9781532416378
Available in single or multi-user editions.
Print Edition(s)
Trim Size:
7.25 x 9.5
Perfect Bound ISBN: 9781532416385
Hardcover ISBN: 9781532416392
Audiobook Edition
Audiobook ISBN: 9781532419508
Book Details
ATOS:
3.0
Age Level:
6-12
Reading Level:
K3
BISAC:
JNF057030, JNF051120, JNF046000
BIC:
YBL
Page Count:
36
Year of Publication:
2021
Release Date:
10/17/2021
Language:
eng
Series Description:
Learn all about your favorite machine in these informational picture books. Excellent photographs are paired with engaging text and fun questions throughout each of the books.
Keywords:
race car, racecar, race cars, race car book, car book, kids race car, kids racing, nascar, nascar kids, car racing children, car racing, my favorite machine, 1st grade nonfiction, second grade nonfiction, vehicles, trucks, machines, ages 3-5, ages 6-8, my favorite machine, favorite machine, kindergarten, first grade, second grade, favorite car, favorite truck, favorite vehicle,