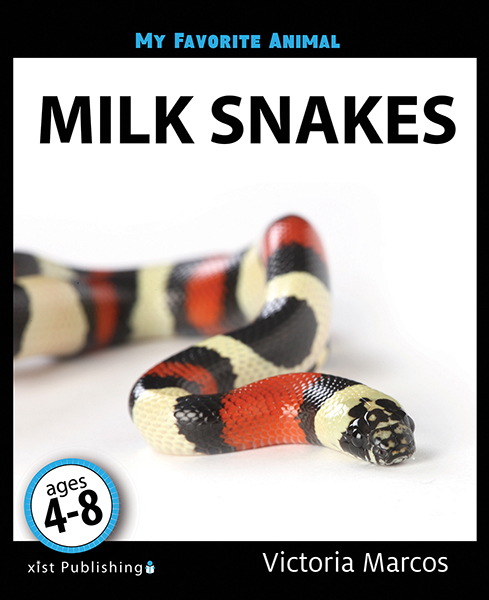 My Favorite Animal: Milk Snakes
Learn all about milk snakes in this fun and informational text. Like all books in the My Favorite Animal Series, Milk Snakes offers engaging facts and checks the reader's knowledge and comprehension throughout the book.
Informational Text, Nonfiction

My Favorite Animal
Book Title: My Favorite Animal: Milk Snakes
Author: Victoria Marcos
Series:My Favorite Animal
Digital Edition
eISBN: 9781532400667
Price: $9.99
Multiuser Price: $26.99
Paperback Edition
Paperback ISBN: 9781532400650
Trim Size: 7.375 x 9
Price: $14.99
Book Details
ATOS:
Lexile: 600L
Age Level: 5-10
Reading Level: K3
BISAC: JNF003300, JNF051050, JNF051050
BIC:YBCS
Page Count: 36
Year of Publication: 2016
Release Date: 08/01/2016
Language: eng
Series Description:
Learn all about your favorite animal in these informational picture books. Excellent photographs are paired with engaging text and fun questions throughout each of the books.
Keywords:
Milk Snakes, milksnake, milksnakes, milk snake, Milk Snakes book, learn about milksnakes, learn about milk snakes, snake, snake book, snake facts, snake questions