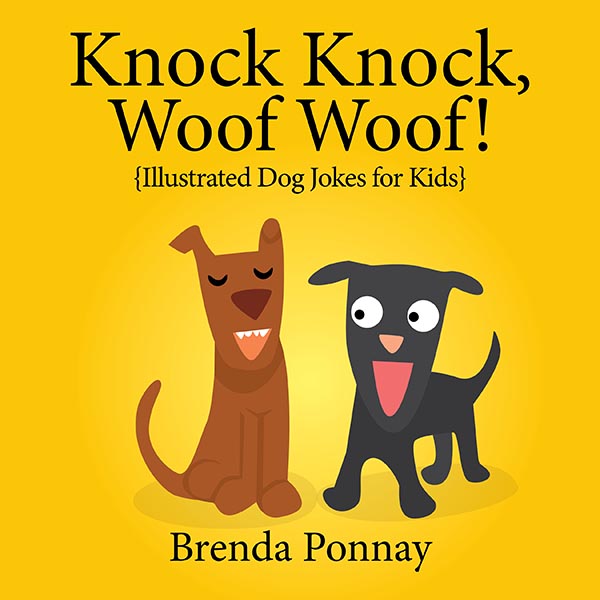 Knock Knock, Woof Woof!
Dog People deserve Dog Jokes!
Get your dog-loving little one laughing with this collection of illustrated dog jokes!
Knock Knock, Woof Woof is filled with funny jokes for kids celebrating dogs and all of their pup-tastic perfection
Nonfiction, Picture Book

Illustrated Jokes
Book Title: Knock Knock, Woof Woof!
Author: Brenda Ponnay
Illustrator: Brenda Ponnay
Series:Illustrated Jokes
Digital Edition
eISBN: 9781532429774
Price: $9.99
Multiuser Price: $26.989999999999966
Paperback Edition
Paperback ISBN: 9781532429811
Trim Size: 8.5 x 8.5
Price: $12.99
Hardcover Edition
Hardcover ISBN: 9781532429859
Trim Size: 8.5 x 8.5
Price: $24.99
Audiobook Edition
Audiobook ISBN: 9781532429897
Runtime:
Price: $
Book Details
ATOS:
Lexile: NP
Age Level: 6-12
Reading Level: K3
BISAC: JNF028020, JNF003060, JNF029010
BIC:WHJ
Page Count: 28
Year of Publication: 2021
Release Date: 11/08/2021
Language: eng
Series Description:
Kids jokes are even funnier when paired with humorous illustrations. Brenda Ponnay's signature style is paired with age-appropriate jokes in this series.
Keywords:
funny, humor, dogs, woof, kids jokes, dog book, dog kids book, dog jokes, funny jokes, illustrated jokes, joke book, joke book for kids, joke book for ages 3-5, ages 3-5, ages 6-8, ages 8-12, dog gift kids, dog gift book, dog stocking stuffer, joke gift dog, kid dog, preschool dog, kindergarten dog, kindergarten dog book, silly kids book, picture book for kids, picture book kindergarten, first grade book, first grade jokes, 1st grade jokes, brenda ponnay, knock knock jokes, dog knock knock, cat jokes for kids kids knock knock jokes, clean knock knock, knock knock woof woof, funny dog jokes