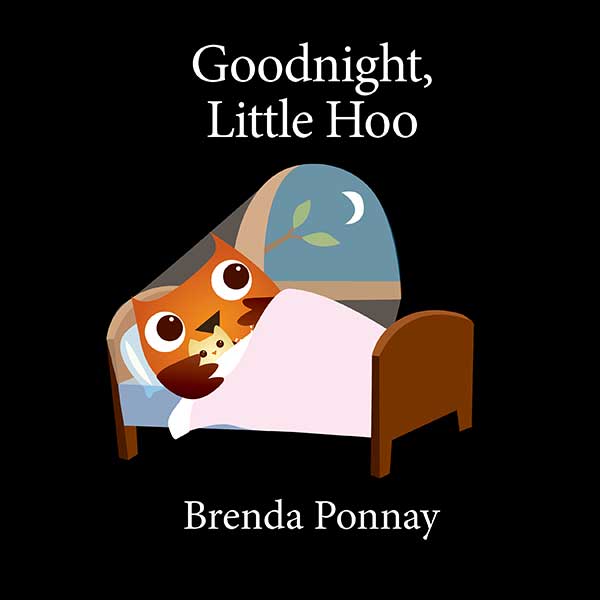 Good Night, Little Hoo
Help Little Hoo get to sleep in this sweet bedtime story.
Nonfiction, Picture Book

Little Hoo
Book Title: Good Night, Little Hoo
Author: Brenda Ponnay
Illustrator: Brenda Ponnay
Series:Little Hoo
Digital Edition
eISBN: 9781532429668
Price: $9.99
Multiuser Price: $26.99
Paperback Edition
Paperback ISBN: 9781532429699
Trim Size: 8.5 x 8.5
Price: $12.99
Hardcover Edition
Hardcover ISBN: 9781532429729
Trim Size: 8.5 x 8.5
Price: $24.99
Audiobook Edition
Audiobook ISBN: 9781532429743
Runtime:
Price: $
Book Details
ATOS:
Age Level: 2-6
Reading Level: K3
BISAC: JUV002040, JUV010000, JUV009070
Page Count: 32
Year of Publication: 2022
Release Date: 10/19/2022
Language: eng
Series Description:
Little Hoo is a anxious little owl. Little Hoo stories help young children navigate common situations with humor and courage.
Keywords:
bedtime, little hoo, brenda ponnay, little hoo books, goodnight, bedtime story, bedtime book, goodnight book, go to sleep, owl, little owl, preschool, toddler, toddler bedtime, preschool bedtime, ages 0-3, baby-3, ages 3-5, help toddler sleep book, toddler sleep, preschool sleep, bedtime story for preschool, bedtime story for toddler, bedtime story for age 3, bedtime story for age 4, bedtime story age 2, birds, family, mama, papa, owls, bedtime anxiety, anxiety preschool, anxiety sleep, anxiety toddler, anxiety