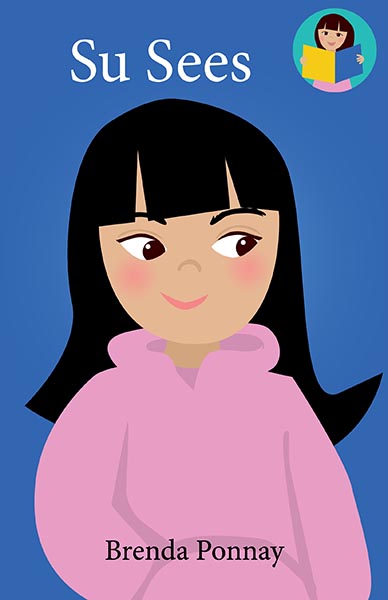 Su Sees
A simple walk in the park gets very exciting. Su sees a squirrel, a bird and then, a skunk! Find out what happens when the skunk sees Su.
Beginning Readers, Fiction

We Can Readers
Book Title: Su Sees
Author: Brenda Ponnay
Illustrator: Brenda Ponnay
Series:We Can Readers
Digital Edition
eISBN: 9781532430060
Price: $7.99
Multiuser Price: $26.99
Paperback Edition
Paperback ISBN: 9781532430312
Trim Size: 5.5 x 8.5
Price: $7.990000000000001
Audiobook Edition
Audiobook ISBN: 9781532430565
Runtime:
Price: $
Book Details
ATOS:
GRL: C
F&P: C
Age Level: 4-7
Reading Level: K3
BISAC: JUV002040, JUV074000, JUV043000
Page Count: 16
Year of Publication: 2022
Release Date: 03/23/2022
Language: eng
Series Description:
The We Can Readers series consists of 32 level A-C books featuring neighborhood friends. The WE CAN kids are a diverse group of schoolmates who know they can do anything when they work together. Each We Can Readers book features bright and fun illustrations paired with simple sentences for developing reading fluency.
Keywords:
su sees, su sees animals, animal book, animal beginning reader, animal book kindergarten, kindergarten animal book, animal book 1st grade, animal book first grade, forest animals, owl, skunk, squirrel, We can reader, Asian American, African American, diverse beginning reader, Asian, black, Indian, diverse kids, multicultural, inclusive, diversity, equity, inclusion, leveled reader, learn to read, reading set, beginning reader, diverse kids books, diverse classroom, multicultural book, classroom library, guided reading, diverse guided reading, Asian character, black character, Indian character, south east Asian, Indian American, Su, Nat, Kat, Raj, level a reader, level b reader, level c reader, kindergarten, kindergarten beginning reader, kindergarten book, kindergarten leveled reader, cat, cats, dog, dogs, friendship, books about friendship, friends, inclusive, easy reader, diverse easy reader, school, school story, first day of school, last day of school, learning to read, teach reading, kids reading, books about pets, books about friendship, funny, silly, easy to read, new beginning reader, new books for kids, 2021 diverse kids books, 2022 diverse kids, 2022 beginning reader, 2022 kindergarten, easy books for kindergarten, books for kindergarten, books for age 5, books for age 4, prek, books for prek, prek reader, books for age 6, short books for kids, kindle kids book, kindle beginning reader, kindle unlimited beginning reader, diverse kindle kids book, leveled reader kindle