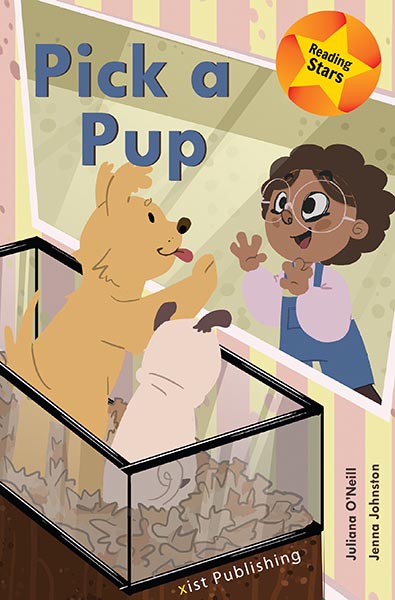 Pick a Pup
If you could pick a pup, what pup would you pick? Who would you have to ask to pick a pup? In this book, a girl asks her mom and her dad if she can pick a pup.
Beginning Readers, Fiction

Reading Stars
Book Title: Pick a Pup
Author: Juliana O'Neill
Illustrator: Jenna Johnston
Series:Reading Stars
Digital Edition
eISBN: 9781532415593
Price: $9.99
Multiuser Price: $26.99
Paperback Edition
Paperback ISBN: 9781532415609
Trim Size: 6 x 9
Price: $12.99
Hardcover Edition
Hardcover ISBN: 9781532415616
Trim Size: 6 x 9
Price: $24.99
Audiobook Edition
Audiobook ISBN: 9781532420023
Runtime: 00:01:41
Price: $9.99
Book Details
ATOS: 0.7
Lexile: 130L
GRL: C
F&P: D
Age Level: 3-7
Reading Level: K3
BISAC: JUV002070, JUV074000 , JUV043000
BIC:YB
Page Count: 24
Year of Publication: 2020
Release Date: 03/15/2020
Language: eng
Series Description:
Reading Star books are for kids at the very beginning of a lifetime love of reading. Each book features less than 50 words and uses repetition to build con dence. A word list at the back and reading readiness ideas for parents and caretakers help make it easy for kids to take their rst step into reading independently.
Keywords:
puppy, pup, dog, adopt, beginning reader, mom, dad, girl, biracial, multiracial, diverse, african american, family, pet, adopt pet, dogs, ages 6-8, ages 3-5, preschool, kindergarten, sight words, learn to read, diversity, diverse books, diverse family