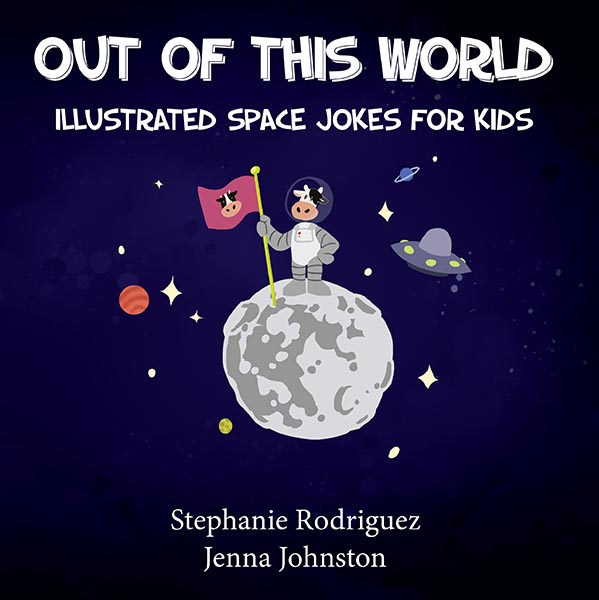 Out of this World
Funny space jokes are illustrated for extra silly laughs.
Nonfiction, Picture Book

Illustrated Jokes
Book Title: Out of this World
Author: Stephanie Rodriguez
Illustrator: Jenna Johnston
Series:Illustrated Jokes
Digital Edition
eISBN: 9781532430008
Price: $9.99
Multiuser Price: $26.99
Paperback Edition
Paperback ISBN: 9781532430251
Trim Size: 8.5 x 8.5
Price: $12.99
Hardcover Edition
Hardcover ISBN: 9781532431654
Trim Size: 8.5 x 8.5
Price: $24.99
Audiobook Edition
Audiobook ISBN: 9781532430503
Runtime:
Price: $
Book Details
ATOS:
Lexile: 460L
Age Level: 7-12
Reading Level: K3
BISAC: JNF028020, JNF051010, JUV053020
BIC:WHJ
Page Count: 28
Year of Publication: 2021
Release Date: 06/17/2021
Language: eng
Series Description:
Kids jokes are even funnier when paired with humorous illustrations. Brenda Ponnay's signature style is paired with age-appropriate jokes in this series.
Keywords:
space, NASA, outer space, aliens, planets, space jokes, science jokes, funny, funny jokes, funny books for kids, joke books for kids, illustrated jokes, ages 6-8, ages 9-12, dad jokes, silly jokes, clean jokes, clean joke book, kid joke book, joke gift, joke book to give, joke book gift