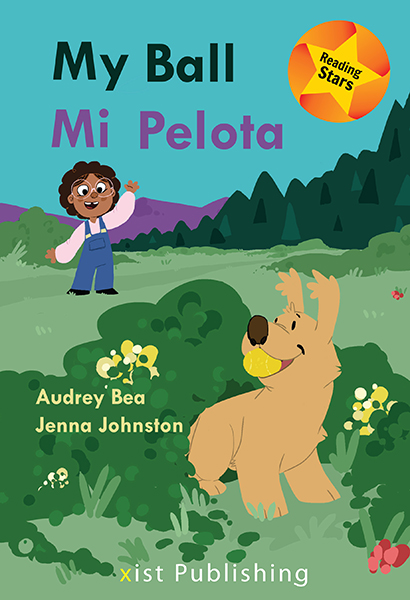 My Ball / Mi Pelota
Bilingual English/Spanish Edition
When a little girl finds a little ball, she goes on a little quest to find the right owner. Will she find the person who owns the ball? Find out!
Beginning Readers, Fiction

Reading Stars
Book Title: My Ball / Mi Pelota
Author: Audrey Bea
Illustrator: Jenna Johnston
Series:Reading Stars
Digital Edition
eISBN: 9781532429347
Price: $9.99
Multiuser Price: $26.99
Paperback Edition
Paperback ISBN: 9781532429354
Trim Size: 6 x 9
Price: $12.99
Hardcover Edition
Hardcover ISBN: 9781532429361
Trim Size: 6 x 9
Price: $21.99
Audiobook Edition
Audiobook ISBN: 9781532429378
Runtime:
Price: $
Book Details
ATOS:
Age Level: 4-8
Reading Level: K3
BISAC: JUV051000, JUV074000, JUV043000
BIC:YBCS
Page Count: 24
Year of Publication: 2021
Release Date: 10/19/2021
Language: eng
Series Description:
Reading Star books are for kids at the very beginning of a lifetime love of reading. Each book features less than 50 words and uses repetition to build con dence. A word list at the back and reading readiness ideas for parents and caretakers help make it easy for kids to take their rst step into reading independently.
Keywords:
ball, dog, girl, diverse, kids, beginning reader, african american, diverse kids, black kids, manners, sharing, helpfulness, learn to read, early reader, easy reader, diverse reader, diversity, handicapped, wheelchair, wheelchair kids book, disability, disability kids, reading star, bilingual, mixed race, english spanish, bilingual early reader, bilingual beginning reader, age 4-6, ages 3-5, grade 1, kindergarten, first grade, guided reading level C, level C reader, reading star series, audrey bea, mi pelota, spanish begininng readeer, spanish reader, spanish book for kids, spanish leveled reader