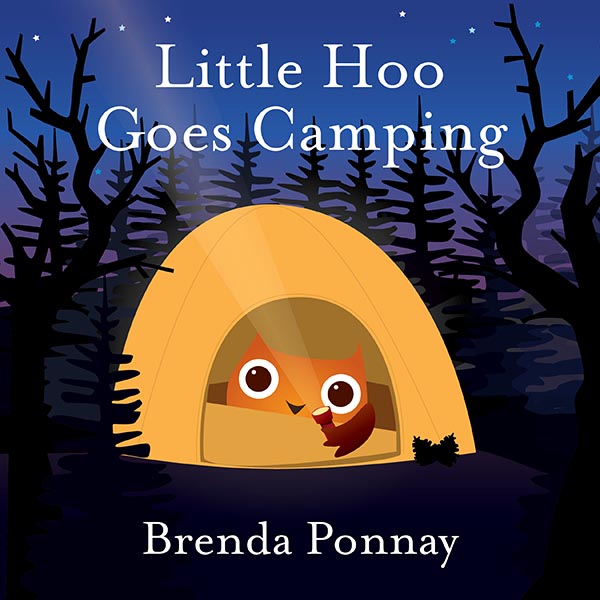 Little Hoo Goes Camping
It's time for the Hoo family to go on their annual camping trip, but Little Hoo is a little bit nervous.
Nonfiction, Picture Book

Little Hoo
Book Title: Little Hoo Goes Camping
Author: Brenda Ponnay
Illustrator: Brenda Ponnay
Series:Little Hoo
Digital Edition
eISBN: 9781532415531
Price: $12.99
Multiuser Price: $26.99
Paperback Edition
Paperback ISBN: 9781532415548
Trim Size: 8.5 x 8.5
Price: $14.99
Hardcover Edition
Hardcover ISBN: 9781532415555
Trim Size: 8.5 x 8.5
Price: $24.99
Audiobook Edition
Audiobook ISBN: 9781532419027
Runtime: 00:03:26
Price: $9.99
Book Details
ATOS: 1.9
Lexile: 350L
GRL: I
F&P: G
Age Level: 2-7
Reading Level: K3
BISAC: JUV002040, JUV032170, JUV013000
BIC:YB
Page Count: 32
Year of Publication: 2020
Release Date: 04/30/2020
Language: eng
Series Description:
Little Hoo is a anxious little owl. Little Hoo stories help young children navigate common situations with humor and courage.
Keywords:
little hoo, camping, adventure, owl, anxiety, worry, kids anxiety, toddler anxiety, preschool anxiety, preschool worry, toddler worry, vacation, family, parents, birds, preschool, toddler, read aloud, preschool series, toddler series, cute toddler book, cute preschool, ages 0-3, baby, ages 3-5, bedtime, bedtime story, bedtime story preschool