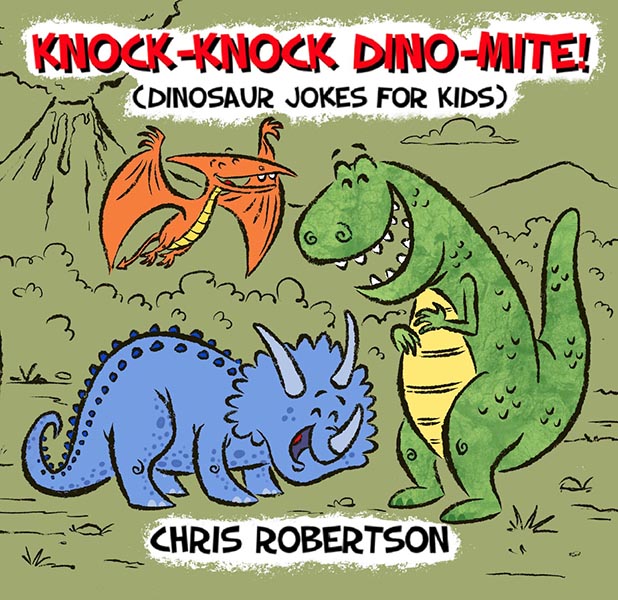 Knock Knock, Dino-mite!
Funny dinosaur jokes are illustrated for extra silly laughs.
Featured-Jokes, Nonfiction, Picture Book

Illustrated Jokes
Book Title: Knock Knock, Dino-mite!
Author: Stephanie Rodriguez
Illustrator: Chris Robertson
Series:Illustrated Jokes
Digital Edition
eISBN: 9781532427527
Price: $9.99
Multiuser Price: $26.989999999999966
Paperback Edition
Paperback ISBN: 9781532427534
Trim Size: 8.5 x 8.5
Price: $12.99
Hardcover Edition
Hardcover ISBN: 9781532427541
Trim Size: 8.5 x 8.5
Price: $24.99
Audiobook Edition
Audiobook ISBN: 9781532427541
Runtime:
Price: $
Book Details
ATOS:
Lexile: 440L
Age Level: 6-12
Reading Level: K3
BISAC: JNF028020, JUV002060, JUV019000
BIC:WHJ
Page Count: 28
Year of Publication: 2020
Release Date: 11/05/2020
Language: eng
Series Description:
Kids jokes are even funnier when paired with humorous illustrations. Brenda Ponnay's signature style is paired with age-appropriate jokes in this series.
Keywords:
dinosaur, dinosaurs, dinosaur book, dinosaur jokes, dinosaurs for kids, dino, t-rex, t-rex kids, paleolithic, prehistoric, funny dinosaur, dinosaur story, dinosaur bedtime story, kids dinosaur book, children dinosaur, dinosaur jokes for kids, dinosaur gift, gift for kid loves dinosaurs, funny, funny jokes, funny books for kids, joke books for kids, illustrated jokes, ages 6-8, ages 9-12, dad jokes, silly jokes, clean jokes, clean joke book, kid joke book, joke gift, joke book to give, joke book gift