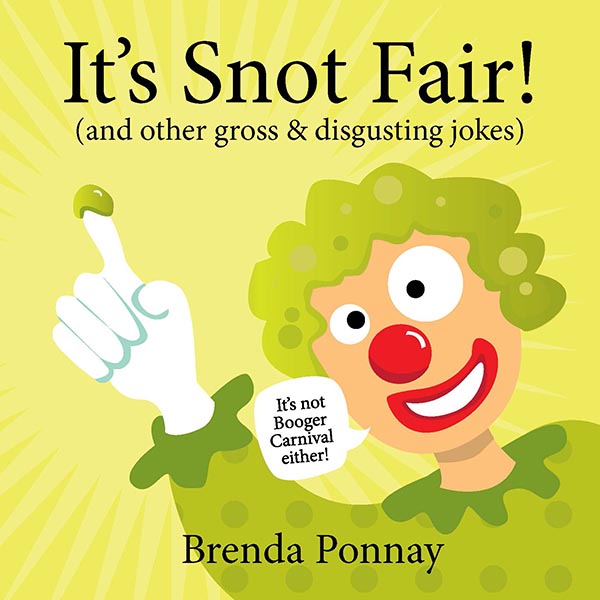 It's Snot Fair!
Gross out all your friends with these hilarious jokes about farts, vomit, and boogers!
Nonfiction, Picture Book

Illustrated Jokes
Book Title: It's Snot Fair!
Author: Brenda Ponnay
Illustrator: Brenda Ponnay
Series:Illustrated Jokes
Digital Edition
eISBN: 9781532402258
Price: $9.99
Multiuser Price: $26.99
Paperback Edition
Paperback ISBN: 9781532402241
Trim Size: 8.5 x 8.5
Price: $14.99
Book Details
ATOS: 2.1
Lexile: 470L
GRL: L
Age Level: 4-8
Reading Level: K3
BISAC: JNF028020, JUV019000, JUV009120
BIC:YBCS
Page Count: 32
Year of Publication: 2017
Release Date: 06/15/2017
Language: eng
Series Description:
Kids jokes are even funnier when paired with humorous illustrations. Brenda Ponnay's signature style is paired with age-appropriate jokes in this series.
Keywords:
jokes, joke books for kids, funny, funny jokes, gross jokes, disgusting jokes, fart jokes, snot jokes, booger jokes, jokes for boys, jokes for kids, clean jokes, silly jokes, silly books for kids, funny books for kids, kids reading, learn to read, books for boys, books for first grade, second grade, third grade, kindergarten, preschool, kindergarten jokes, first grade jokes, boy jokes, gross out, disgusting, books for kids, books for children, picture book, ages 3 5, childrens book, bedtime joke book, easy to read, easy reader, high interest kids, high-interest reading, its snot fair, it's snot fair, brenda ponnay, ages 6-8