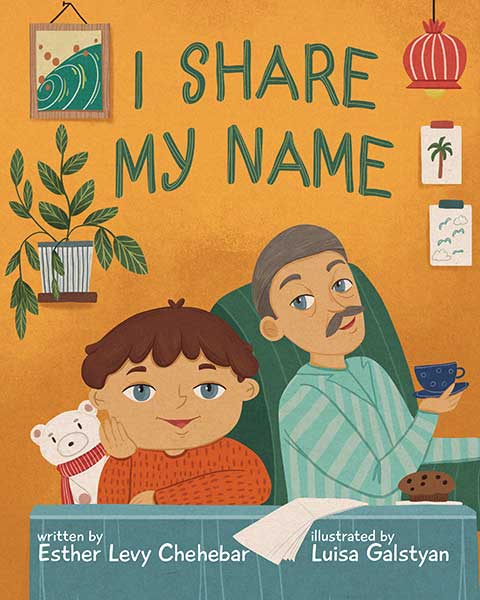 I Share My Name
There are so many boys name Jojo! In I SHARE MY NAME, a young boy celebrates his Sephardic Jewish cultural tradition of naming children after grandparents. Young Jojo shares what he loves about each of his cousins, all named Jojo. All of the Jojos are unique and all are loved by Papa Jojo, who blesses them every Shabbat.
Book Title: I Share My Name
Author: Esther Levy Chehebar
Illustrator: Luisa Galstyan
Digital Edition
eISBN: 9781532432170
Available in single or multi-user editions.
Print Edition(s)
Trim Size:
8 x 10
Perfect Bound ISBN: 9781532432187
Hardcover ISBN: 9781532432194
Audiobook Edition
Audiobook ISBN: 9781532432200
Book Details
Age Level:
2-12
Reading Level:
K3
BISAC:
JUV033020, JUV013030, JUV017120
Page Count:
28
Year of Publication:
2022
Release Date:
11/05/2022
Language:
eng
Keywords:
jewish, seder, pesach, pesach gift, passover gift, jew, sephardic, sephardic jewish, jewish childrens book, jewish kids book, shared names, i share my name, cousin, grandparents, papa, new york, jews, jewish book gift, jewish book for kids, jewish book ages 5-7, shabbat shalom book, jewish blessing, family, jojo, jewish baby shower, jewish baby book, jewish baby gift, jewish gift book kids, gift book, picture book, childrens book, diversity, diverse book kids, multicultural, own voices, jewish author, ages 3-5, ages 5-7