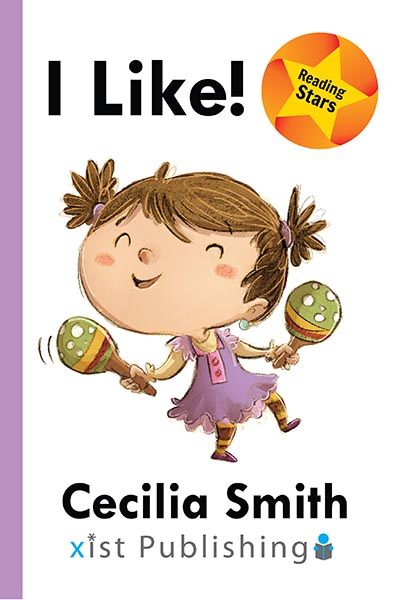 I Like!
Beginning Readers, Fiction

Reading Stars
Book Title: I Like!
Author: Cecilia Smith
Series: Reading Stars
Digital Edition
eISBN: 9781532409257
Available in single or multi-user editions.
Print Edition(s)
Trim Size:
6 x 9
Perfect Bound ISBN: 9781532409264
Hardcover ISBN: 9781532435140
Audiobook Edition
Audiobook ISBN: 9781532419973
Runtime: 00:01:06
Book Details
ATOS:
.5
Lexile:
30L
GRL:
B
Age Level:
4-8
Reading Level:
K3
BISAC:
JUV031020, JUV043000, JUV051000
Page Count:
28
Year of Publication:
2018
Release Date:
08/01/2018
Language:
eng
Series Description:
Reading Star books are for kids at the very beginning of a lifetime love of reading. Each book features less than 50 words and uses repetition to build con dence. A word list at the back and reading readiness ideas for parents and caretakers help make it easy for kids to take their rst step into reading independently.
Keywords:
dance, kids activities, sports, play, interests, thankful, activity, beginning reader, first reader, learn to read, level a reader, reading star, easy reader, kindergarten reading, readers, leveled reader, sight words, ages 3-5, preschool, kindergarten, first grade, ages 6-8,