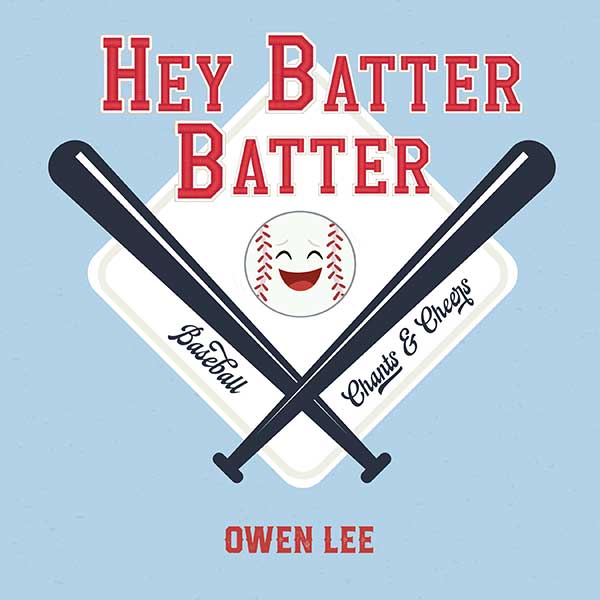 Hey, Batter Batter!
HEY BATTER BATTER is a collection of new and favorite baseball cheers perfectly suited for any dugout.
Nonfiction, Picture Book

Sports Cheers
Book Title: Hey, Batter Batter!
Author: Owen M. Lee
Illustrator: Irena
Rudovska
Series:Sports Cheers
Digital Edition
eISBN: 9781532432217
Price: $9.99
Multiuser Price: $26.99
Paperback Edition
Paperback ISBN: 9781532432224
Trim Size: 8 x 10
Price: $12.99
Hardcover Edition
Hardcover ISBN: 9781532432231
Trim Size: 8 x 10
Price: $24.99
Audiobook Edition
Audiobook ISBN: 9781532432248
Runtime:
Price: $
Book Details
ATOS:
Age Level: 6-12
Reading Level: 36
BISAC: JNF054010, JNF042010, JNF070000
Page Count: 32
Year of Publication: 2023
Release Date: 03/01/2023
Language: eng
Series Description:
Show your support for your favorite team with chants, cheers and more.
Keywords:
baseball, baseball chant, hey batter batter, baseball cheers, baseball jokes, baseball book, baseball books for boys, baseball book for boys, baseball gift, little league gift, little league, baseball coach, baseball coach gift, coach gift, baseball present, baseball season, baseball bat, baseball birthday gift, birthday gift for baseball, birthday gift for boy, birthday gift for age 7, birthday gift age 8, birthday gift age 9, birthday gift age 10, birthday gift age 11, baseball stocking, baseball stocking stuffer, baseball christmas, baseball christmas gift, christmas baseball, christmas baseball gift, gifts for kids who like baseball, world series, little league world series, baseball swag, baseball mom, baseball dad, baseball grandma, baseball grandpa, baseball sister, baseball brother, pony baseball, baseball league gift, baseball coach, baseball coach gift, coach, baseball glove, sports, softball, softball chants, softball cheers, christmas gift age 7, book gift age 7, baseball gift age 8, baseball gift age 9, baseball gift age 10, stocking stuffer, stocking stuffer sports