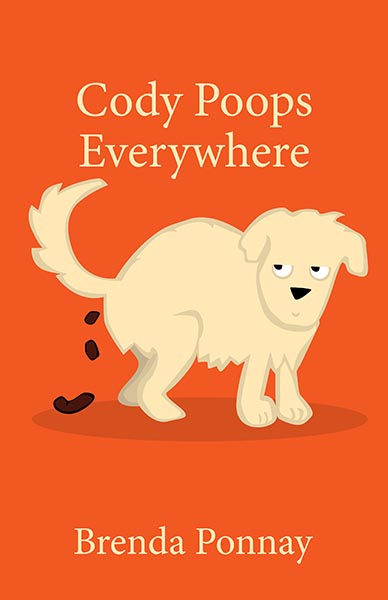 Cody Poops Everywhere
Cody is a dog and dogs poop. Read all about it in this level C reader.
Beginning Readers, Fiction

Cody the Dog
Book Title: Cody Poops Everywhere
Author: Brenda Ponnay
Illustrator: Brenda Ponnay
Series:Cody the Dog
Digital Edition
eISBN: 9781532413285
Price: $9.99
Multiuser Price: $26.99
Paperback Edition
Paperback ISBN: 9781532413292
Trim Size: 5.5 x 8.5
Price: $7.99
Audiobook Edition
Audiobook ISBN: 9781532417467
Runtime: 00:01:08
Price: $9.99
Book Details
ATOS: 1.8
Lexile: 30
GRL: B
Age Level: 3-6
Reading Level: K3
BISAC: JUV002070, JUV043000, JUV050000
Page Count: 16
Year of Publication: 2019
Release Date: 07/15/2019
Language: eng
Series Description:
Join Cody as he does silly things in these very simple beginning readers.
Keywords:
cody the dog, dog book, poop book, dog, poop, funny, gross, pet, funny beginning reader, level B, GRL B, level B reader, leveled reader, beginning reader, dog reader, brenda ponnay, gross books for kids, poop book for kids, beginning reader boys, preschool, ages 6-8, ages 3-5