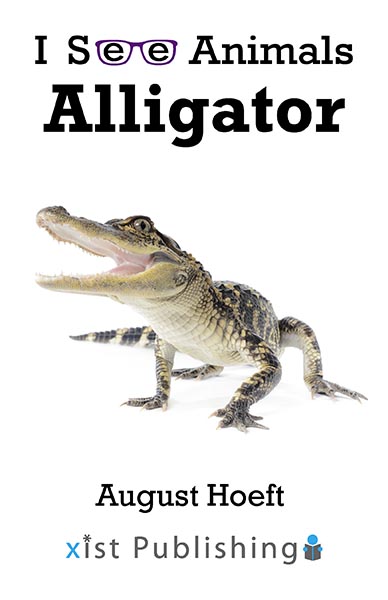 Alligator
Beginning readers can learn all about alligators in this short book in the I See Animals Series. With less than 20 unique words, kids can learn about interesting animals while building their reading fluency.
Beginning Readers, Early Concept, Informational Text, Nonfiction

I See Animals
Book Title: Alligator
Author: August Hoeft
Series:I See Animals
Digital Edition
eISBN: 9781532413971
Price: $12.99
Multiuser Price: $26.99
Paperback Edition
Paperback ISBN: 9781532414688
Trim Size: 5.5 x 8.5
Price: $7.99
Audiobook Edition
Audiobook ISBN: 9781532418587
Runtime: 00:00:38
Price: $9.99
Book Details
ATOS: 1.3
Lexile: 70L
GRL: C
F&P: C
Age Level: 3-7
Reading Level: K3
BISAC: JNF003190, JNF045000, JNF051050
BIC:YB
Page Count: 12
Year of Publication: 2020
Release Date: 04/17/2020
Language: eng
Series Description:
I See Animals are beginning level nonfiction texts featuring the animals kids love.
Keywords:
alligator, alligators, crocodiles, reptiles, swamp, deadly animal, dangerous animal, beginning reader, level c reader, grl level C, preschool reader, kindergarten reader, kindergarten, learning to read, preschool, ages 6-8, ages 3-5, teach reading, animal reader, animal facts, easy reader, leveled reader, nonfiction, nonfiction level c, nonfiction series, animal series, i see animals, animal books